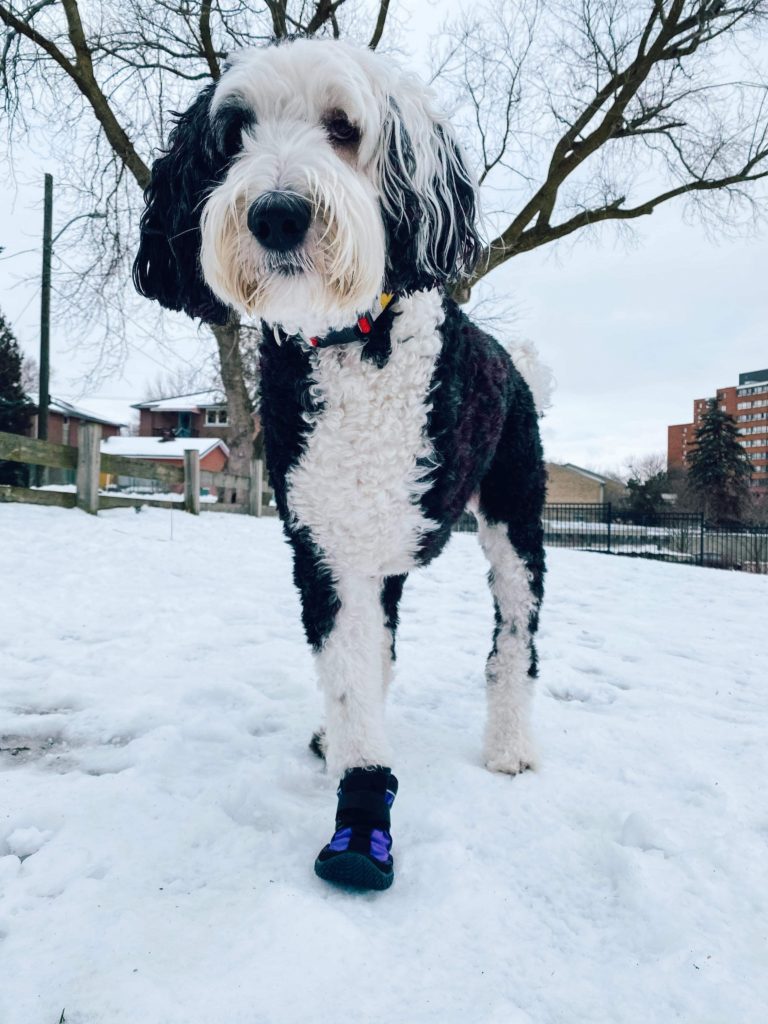 Dog's paws are naturally tough, but sometimes they need a little extra protection. This extra protection can come from dog booties!
Why Use Dog Booties?
While your pet's paws are tough, they are still susceptible to injury! Booties can prevent many types of paw injuries! Injuries can arise from a physical or chemical stimulus. A physical injury could be from stepping on rocks, sticks, or hard objects while outdoors. These objects can cause physical damage and irritation or even foreign body injuries from the object entering and remaining under the skin of the paw(s), such as a splinter. Harsh weather conditions can also contribute to physical damage. The summer heat can cause the pavement to reach scorching temperatures. This can actually burn your pet's paws! Whereas the cold winter conditions can cause your pet to get frostbite!
Chemical injury can arise from your pet coming in contact with various properties in the outdoor environment. A prime example is salt used for de-icing! This can cause chemical irritation from the properties in the salt, but also physical injury from abrasion. Moreover, if your pet licks non- pet-friendly salt off of their paws they could develop gastrointestinal issues.
Not only are booties useful for protection against physical and chemical damage but, they are great for mobility deficits! If you have a senior pet, you may notice that they have difficulty getting up, or moving around without slipping. Booties can help with this by increasing your pet's traction on their paws! This provides the much-needed stability for them to be able to walk properly!
Check out the top 5 dog booties we recommend below!
5 Best Dog Booties
Original Fleece-Lined Muttluks
Perfect for everyday winter wear, on walks, and in the snow.
These fleece-lined Muttluks are perfect for winter. These booties offer maximum comfort for your pet as they have flexible soles and, are shaped specifically for paws. They have a fleece lining to keep your pet warm during frigid winter temperatures. The treated leather sole provides durability and protection against harsh ice, snow, and salt conditions. They are easy to fit on your pet as they have an adjustable strap and come in a variety of sizes (and colours!). Cleaning is a breeze as they are machine washable!
| | |
| --- | --- |
| Pros | Cons |
| Fleece Lined | Lacks Tread on Soles |
| Treated Leather Sole | |
| Adjustable Strap | |
| Machine Washable | |
| Reflective | |
Original Fleece- Lined Mutlukk
Snow Musher Muttluks
Ideal for the active winter dog that partakes in long walks and snow activities.
These are similar to the original Fleece-Lined Muttluks, but are a step up! They have all the same features but also boast a rugged sole. This rugged sole provides extra traction and protection from the elements.
| | |
| --- | --- |
| Pros | Cons |
| Fleece Lined | Increased Cost |
| Treated Leather Sole | Sold in Package of 2 |
| Adjustable Strap | |
| Machine Washable | |
| Reflective | |
| Tread on Sole | |
Snow Musher Muttluks
FouFou Dog Rubber Dipped Socks
The perfect bootie for small breeds that need lightweight, short-term protection from the snow, salt and ice.
Finding a lightweight bootie for small breed dogs can be challenging! These rubber-dipped socks are the perfect solution! They offer lightweight paw protection, for both small and large dogs. The cozy sock provides insulation from cold weather conditions. While the dipped end provides protection from salt, ice, and snow! They are easy to slip onto your pet's paw and have an adjustable velcro strap to secure them in place. Since they are a sock design they provide peak comfort and flexibility. Cleaning is easy as they are machine washable!
| | |
| --- | --- |
| Pros | Cons |
| Flexible | Lacks True Sole |
| Machine Washable | Not Reflective |
| Adjustable Strap | |
| Affordable | |
| Lightweight | |
FouFou Dog Dipped Socks
Pawz Rubber Booties
Ideal for dogs that require minimal protection from winter conditions and/or have mobility issues indoors or outdoors.
These disposable, reusable, and waterproof booties are fantastic! Pawz are great for pets that don't enjoy the feeling of a bootie as they are so lightweight and flexible. They can be utilized during all seasons and have multiple uses. During rainy spring days, they protect your pet's paws from moisture. While in winter they protect your paws from direct contact with salt, snow, and ice. These are thin booties that are very similar to a balloon in texture so they lack insulation and will not keep your pet warm in the winter.
A key feature of these booties is their use in aiding mobility. They have the ability to improve your pet's traction both inside and outside. In fact, these booties are often used by canine physical rehabilitation centers to improve patients' mobility! Many senior or injured dogs wear them both inside and outside to help reduce slippage and increase their stability. One thing to note with these booties is that because they are reusable and disposable, your pet will eventually need them replaced!
| | |
| --- | --- |
| Pros | Cons |
| Flexible | No sole- minimal physical protection |
| Lightweight | Not insulated- no warmth provided |
| Reusable | May tear/break |
| Aids Mobility | Disposable |
Pawz Rubber Booties
Ruffwear Grip Trex Boots
Ideal for dogs who are active on trails, and rough terrain and don't require protection from the cold temperatures of winter.
These boots are perfect for the active dog in your life! Due to their versatility, they can be used during many activities. They can be worn hiking, running, or walking. The Vibram sole provides serious traction for all terrains. The bulk of the bootie is made with mesh to provide breathability during the cooler months. With a cinch closure, they are easy to fit and are secured in place. They even have reflective trim to increase visibility.
| | |
| --- | --- |
| Pros | Cons |
| Versatile | No sole- minimal physical protection |
| Breathable | Not insulated- no warmth provided |
| Adjustable | |
| Vibram Sole | |
Ruffwear Grip Trex Boots
Which Bootie Should You Choose?
When it comes down to it, choosing a bootie truly depends on your pet's lifestyle. Choose your bootie based on what activities you intend to use the booties in. Some specific aspects that are important to consider when making your decision are:
Fit/Comfort
Insulated Vs Not Insulated
Washability
Durability
Ease of Use (are they easy to put on?)
Dog Bootie Comparison
Frequently Asked Questions
Are booties good for dogs?
Yes! They help to protect your dog's paws your physical and/or chemical damage.
What are the best booties for dogs?
Our top recommendations are listed above, but we recommend Muttluks above all.
Are dog shoes cruel?
No, as long as they fit your pet properly providing comfort.
How do you keep dog booties on a dog?
Many booties have velcro straps to hold them in place.