Hi everyone, I'm Jenny! Currently, I'm a fourth-year veterinary student in Ontario, Canada. My family consists of the cutest little cat named Millie and my fiance, Trevor. We recently lost our sweet chihuahua, Minnie, whom you will see plastered all over my site as she was our love! In my spare time, I enjoy going for walks, running, spinning and of course, Netflix-ing. Beyond that, I love sharing my journey toward my veterinary career on social media! You can catch me on Insta and Tiktok sharing my daily adventures as a veterinary student.
Partway through vet school, I decided to create this blog! I did this to inspire and support others as they strive toward achieving their goal of a career in veterinary medicine. My journey to vet school was definitely not linear! It had so many bumps along the way, and honestly still does so I know how trying it can be. So I thought what better way to help support aspiring veterinarians than by sharing the reality of my journey– and how I still ended up here despite all those pesky bumps! My journey article explains every detail of my journey so be sure to check it out!
Not only is this blog for aspiring veterinarians, but it's also for pet parents! I am passionate about educating pet owners with the knowledge that I have acquired throughout vet school and am excited to share it! The pet care section has many articles for caring for your furry family member.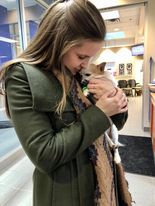 Whether you're a pet parent, an aspiring vet, or just taking a peek at my website, welcome! Follow along on Insta and Tiktok to get an authentic peek into my daily life as a veterinary student and the realities that come along with it.
-Jenny