Getting into veterinary school is quite challenging and I am here to help! Personally, I found getting into vet school to be the hardest part of my journey thus far (BUT- I'm only in my second year so we'll see if that holds true over the next couple of years!). Follow these tips for getting into vet school!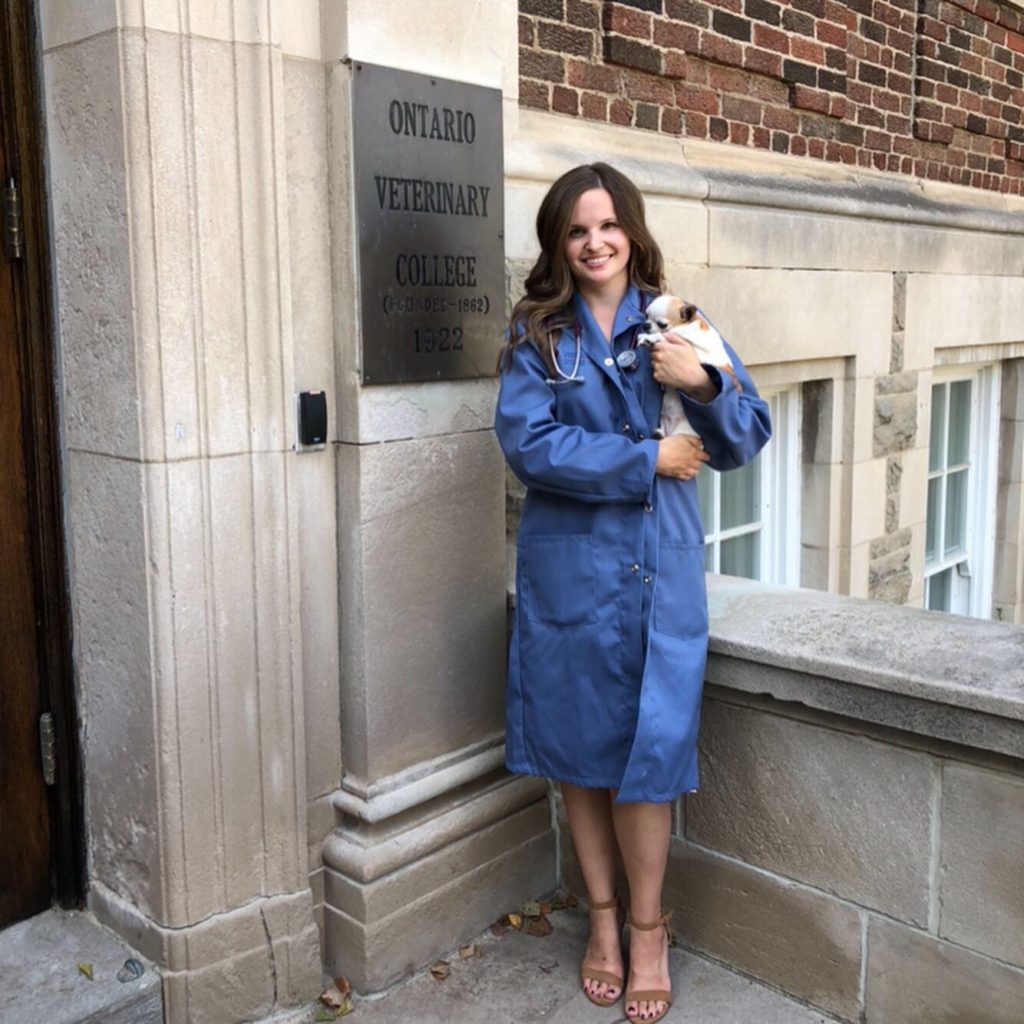 Tips For Getting Into Vet School:
1) Familiarize yourself with application requirements
Each school that you apply to will have specific requirements so it is important to be aware of these. Determine what courses and experiences are required for each school. Check to see if there are any requirements regarding where you live. For instance, in Canada you can only apply to schools in the province you reside in. Check these requirements frequently, as they can change! Consider bookmarking your school's requirements so you can monitor them.
2) Improve your GPA
Unfortunately, vet school applications are very mark-oriented. Improving your average is very hard but the way I did it was by making school my main focus. Experience is important, but if it is impacting your academics then you need to reconsider because grades are paramount. For classes- get approval from your vet college before taking the class so that there are no application issues. I also recommend meeting with the professor(s) before picking your courses to discuss your goals. Realistically, you need high grades so feel free to ask them if they have a history of awarding high grades to hard-working students. Some professors will say they haven't given one out in their career, that's a red flag- do not take that class!
When choosing the classes you would like to use on your application, be sure to choose the classes with the highest mark. Seems simple enough but, oftentimes applicants assume that you must apply with the courses that are most relevant to your program but this is not true for my vet school. For instance, if you have higher marks in a plant course(s) rather than your animal course(s)- apply with the plant course! Be sure to check with your vet college as well but, typically as long as you have met the requirements for your prerequisite courses, your other biology courses do not have to be animal related. GPA is critical so the higher your marks on your application, the better.
3) Diversify your experience
Experience is certainly not as important as your GPA but it is still essential! Having a variety of experiences will help you become a well-rounded person and that will be reflected on your application. If you're just interested in small animal medicine, you still need to acquire experience in other aspects of veterinary medicine. Some examples are; animal food industry (such as dairy), research involving animals, and exotic animal medicine.
Experience beyond animals is also important! Consider volunteering or working in other industries as well. Many other industries have a lot to teach you that will also be valuable in your career. Some examples include; nursing home, charities, or a soup kitchen. It is so important to give back to your community and this will speak volumes on your application.
This experience will not only help your application but will also foster personal growth and valuable connections with those you meet along the way.
4) Make meaningful connections
Many (if not all) schools require multiple reference letters with your application. You will not get outstanding reference letters if you've only spent a day or two working alongside your referee. I'm sure that they would provide you with a letter of reference but, oftentimes if you haven't spent much time together, they will have difficulty providing a good letter. Some schools have very specific questions regarding you and the relationship you have with your referee and if they don't know you well enough- they won't be able to thoroughly answer those. Additionally, there is so much value in making meaningful connections with veterinarians, as they can be a wealth of knowledge and support!
5) Practice your interview skills
Before your interview, practice, practice, practice! Be sure to know your application like the back of your hand because you will be asked about it. Check with the school you are applying for to see if they conduct practice interviews. Sometimes there are even students of that school that may be willing to tutor you on the interview process! If you don't have access to those resources, that's okay! You can practice with a friend or family member- it sounds silly, but it worked for me!
I highly recommend purchasing a veterinary ethics book as well. This is a major help when getting you into the right mindset. Many of my classmates and I used Veterinary Medical Ethics by B. Rollin. This book provides you with ethical scenarios and the appropriate response to each one. It is a great book for informing you of the basic approach to ethical problems. At first, I read about 75% of this book, then had a friend utilize the rest of the scenarios to practice my interview skills! I would allow myself a few moments to read the scenario (not the answer!) and would respond to the scenario verbally. My friend would then compare my answer to Rollin's. It is a great exercise to get you thinking!
Want to know what a day in vet school is like? Check our our post – A Day In The Life Of A Vet Student.
Frequently Asked Questions
How can I increase my chances of getting into vet school?
Follow our guide above! It is important to increase your marks, and gain a vast majority of experience as well as reference letters.
How difficult is getting into vet school?
It is very competitive to get into vet school but, it is possible!
How do you stand out for vet school?
Be sure to have high grades and get a variety of experience both within and outside of the animal industry. Another way to impress your vet school is to practice your interview skills prior to being interviewed!
Can I get into vet school with a 2.5 GPA?
Unfortunately, you cannot. It is recommended to have at least a 3.5 GPA.