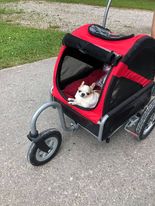 If your dog has reduced mobility this is the perfect solution! Whether your dog is a senior, has arthritis, an injury, or is just a little dog that cannot tolerate long walks- consider a pet stroller! Having a pet stroller can make your life much easier. You won't have to worry about leaving for a walk, and wondering how your pet may do along the way. If your pet doesn't make it the entire walk, they can simply be placed in a stroller for you to continue along! While your pet may not be able to physically keep up- they will still be able to enjoy their walks and get the mental stimulation they require. Here is our carefully curated list of the best dog strollers!
Doggyride
By: DutchDog Design
These strollers are our number one favourite! It is clear that a lot of thought and research went into the creation of these strollers. They provide a smooth and comfortable ride for your pet, which is ideal for dogs with reduced mobility. Available in two sizes- Novel Jogger for large dogs and mini jogger for small dogs. These are perfect for senior dogs or slow walkers!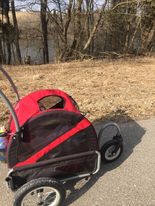 Moreover, they are very versatile! It can easily transform into a bike trailer by purchasing one of their 3 available bike kits. Additionally, when not in use- the wheel and handles can be removed so the carriage can be used as a crate! Moreover, there is a multitude of accessories available for purchase, to make this stroller even more convenient! There is a thick luxury pet mat that supports your pet, making their ride even more smooth and enjoyable. The rain cover accessory is ideal for rainy day walks, keeping your pet clean and dry. For the larger stroller models, there is even a cargo rack to attach your belongings to, adding to the practicality of this product. Moreover, the kickstand attachment comes in handy on larger models for when you have your bike parked.
As for the design of this stroller- there are 3 openings- one on the roof, front, and back. This allows for ultimate air- flow for your pet and allows for ease of placing them inside. Plus, if you have a taller dog, they can stick their head out the top and feel the wind beneath their ears! Another key feature is the large storage pocket at the back of the stroller and the water bottle holder. This makes long walks more enjoyable as you can place all of your personal items into the stroller instead of your own pockets! Additionally, the foot brake makes it very easy to park the stroller to ensure a safe entrance and exit for your pet.
Features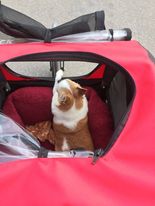 Jogger
3 Openings
Low to the ground for ease of loading pet in
Converts to a bike trailer with bike kit
Foot Brake
Rear storage pouch
Folds for storage
Sturdy frame
Reflective strips for visibility
2 sizes available
Luxury pad
Accessories available for purchase
Offered in multiple colours
You will not regret purchasing this stroller. The only thing is- you may find yourself asking why you hadn't purchased it earlier! This truly is the stroller you didn't know you needed.
Dogger Stroller
By: Dog Quality
"The SUV of Strollers"

– Dog Quality
This stroller was specifically designed with senior dogs in mind! It has a very spacious basket for your beloved pet with maneuverable and adjustable canopies. The rear suspension and 12" wheels provide a very smooth ride. Another great feature of this stroller is that the handles are adjustable. This makes pushing it comfortable for those of any height! This stroller sits higher than most strollers, giving your dog a higher view to enjoy. One thing to note is that the higher basket also means that you have to lift your pet to place it inside. It is also made for jogging, as the front wheel can be locked into place or free to rotate 360 degrees. The foot brake is placed conveniently at the back of the stroller to allow for easy use while getting your pet in and out of the stroller.
As for accessories, there is a rain cover available for those rainy day walks as well as a cup holder to hold your beverage. Moreover, there are also lights, a pump, and an orthopedic pad for the basket available for purchase!
Features
Jogger
Adjustable handles
Rear suspension
Folds for storage
Sturdy Frame
Storage pouch
Foot Brake
Orthopedic Pad
Accessories available for purchase
Offered in multiple colours
No Zip Jogger Stroller
By: Pet Gear
This spacious stroller can provide a great ride for your senior pet! This stroller is known for being a non-zip stroller, as the canopies fasten together with velcro. This makes attaching the canopy very easy! With built-in plastic cup holders and a storage pouch beneath the carriage, it is sure to make walks more convenient for you too! When it is time to store this stroller, the one-hand folding feature makes it very simple! The foot brake feature ensures your pet is safe while being placed in and taken out of the stroller. While this stroller doesn't offer a rain cover, it is made of water-resistant material. As for the size of dogs that it can support- it does claim it supports dogs up to 75lbs but I wouldn't recommend this as the basket is not large enough for a dog that size.
Features
Foot Brake
Built-in cup holders
Storage pouch
One-hand folding
Water-resistant fabric
Available in multiple colours
Comparing Dog Strollers
You truly cannot go wrong with any one of these strollers, as they are the best dog strollers on the market!
Frequently Asked Questions
What is the best dog stroller?
The best dog stroller that we recommend is the DoggyRide by Dutch Dog Design.
Do dogs like dog strollers?
Many dogs do! Some pets enjoy them right from the start where as others may take a few rides to get used to it.
Are dog strollers allowed in stores?
Any stores that normally do not allow pets- do not allow pets in strollers. Pet friendly stores do.
Why do dogs need strollers?
Dogs need strollers if they have mobility issues or cannot tolerate long walks. Mobility issues can be age or injury related. Small dogs more commonly need strollers due to their inability to endure long walks.